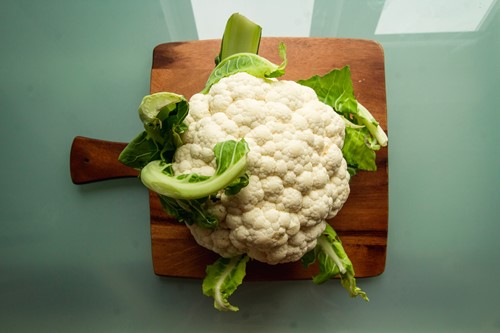 Photo by Louis Hansel @shotsoflouis on Unsplash

A dish just about everyone can agree on anytime is pizza, and this tasty recipe for veggie pesto pizza with a homemade cauliflower crust is a healthy alternative to delivery or frozen options. While it takes about an hour to prepare and cook, those extra few minutes of prep are well worth the results.
Ingredients for Cauliflower Crust
1 Large Cauliflower Head, Stalk Removed
1/4 Cup Parmesan Cheese, Grated
1/2 Cup Mozzarella, Shredded
1/2 Tsp. Kosher Salt
1/2 Tsp. Dried Oregano
1/4 Tsp. garlic powder
2 Large Eggs, Lightly Beaten
Crust Directions
Get the oven preheated to 400 degrees F. Place a sheet of parchment paper atop a baking sheet. Begin by breaking up cauliflower into small pieces and use a food processor until finely chopped. Give the cauliflower a gentle steam, drain well and allow to cool. Combine the cauliflower and the cheeses, spices and eggs into a bowl until well mixed.
Place 'dough' onto the parchment lined baking sheet and begin kneading and spreading it into a circle or shape of choice. You can determine the thickness of your crust from thin to a hand-tossed style. Add any 'extras' to the crust if desired by brushing it with olive oil and sprinkling add-ons to the edges. Place atop a pizza pan. Bake for 20 minutes, and begin prepping the toppings.
Topping Ingredients
1/2 Cup Pesto Sauce, Fresh or Pre-made
3/4 Cup Fresh Spinach, Chopped and Packed
1/3 Cup Fresh Basil, Chopped and Packed
2 Plum Tomatoes, Sliced
2 Portobello Mushrooms, Sliced Thinly
1 Medium Yellow Pepper, Julienned
1 Cup Part-Skim Mozzarella Cheese, Shredded
1/4 Cup Parmesan Cheese, Grated
1/2 Tsp. Oregano, Fresh or Dried
2 Cloves Garlic, Halved
Rub the prepared cauliflower crust with a side of open garlic clove until the top is fully covered or to desired taste. Spread the pesto sauce atop the crust, adding extra if a saucier pizza is preferred. Top your masterpiece with the prepped spinach, mushrooms, tomatoes, yellow pepper and sprinkle with the basil. Evenly spread the cheeses across the toppings and sprinkle the oregano to finish it off. Place in the oven and bake 10-15 minutes until cheese is melted or until the crust reaches desired crispiness.
When cut into 6 pieces, this pizza is only 310 calories with an estimated 4 grams of saturated fat—so enjoy it guilt-free with your family and friends in your new home anytime the craving strikes.